There's a baby on the way – congratulations! As you're starting to plan for your impending arrival we've got no doubt you're beginning to feel a bit overwhelmed by all the stuff it seems like you need. Everyone has a different opinion (us included!) over what you should and shouldn't buy and the thought of trying to compile all your newborn essentials feels daunting – and not to mention, expensive! We're here to hold your hand with our new baby shopping list.
I – Beth – have taken a relatively minimalist approach when compiling this list of newborn essentials. This is based on my own experience.
Wait until they're born
Do remember that you can always buy or borrow things after the baby is born once you've truly figured out what you need. There are 24 hour supermarkets and next day delivery – so we recommend you don't succumb to the pressure of trying to stock up on everything, all at once.
Every parent and every baby is different so it's often better to wait to see what you think would be useful. Personally, I regret buying lots of baby clothes when I was pregnant. My son was very, very small and didn't fit anything I'd bought in the right season. I could've just waited and had the joy of shopping for adorable tiny things when I knew what he was like.
Don't worry about things they won't need – yet
We also don't recommend you worry about buying things that the baby won't need yet. Newborn essentials are actually quite simplistic: they don't need much! So don't burden yourself with the task of hunting down the best highchair, playpen or jumperoo when they won't be using it for at least another 6 months!
Some items are very specific to personal circumstances: for example, you do not need a baby monitor until you'll be leaving the baby in a room on their own. Official advice is that you don't do this until they're 6 months old. What you do in your home in reality, is up to you. You may or may not need one yet – either way, it's unlikely to be an item you need from day one.
Borrow or shop pre-loved
The newborn period is short and in general, babies grow and change so quickly that they don't use things for very long. This means there are plenty of excellent quality preloved items to be found – saving you a fortune! Here are our tips for shopping secondhand for baby items. My personal win was a bundle of 10 sleepsuits for 99p on eBay!
You may also be expecting your second (or third, fourth) baby, borrowing things from friends or graciously accepting hand-me-downs. Here are the things you can reuse and what you should buy new.
Gifts
Lastly, you will no doubt receive gifts when the baby is born. You'll probably be inundated with blankets, soft toys and cutesy outfits – so focus on the other, more practical things when you're heading out with your new baby shopping list! If you know the gift-giver well enough, don't be afraid to ask for what you really need.
Crib, car seat and pram
All new babies of course need somewhere safe to sleep and a safe way of getting around, however, as everyones' circumstances are so different, we have left a crib, a carseat and a pram off of this new baby shopping list. For many, they are of course newborn essentials but each requires its own individual research to suit the families individual needs!
Don't make these common car seat safety mistakes.
Ultimate Newborn Essentials Shopping List
A sling and/or baby carrier for baby wearing
Newborns like to be held. A lot. Slings and baby carriers are not just great for on the go when your precious cargo is small and you don't want to lug a pram around, they're also a godsend for getting things done at home. This is one of my favourite newborn essentials.
Personally, I loved using a stretchy sling style wrap when my little boy was small. We used the Freerider Sling for the first 6 months. It was easy to tie once you got the hang of it and both my husband and I loved having our little tiny koala snuggled close, hands free!
When he got bigger and wanted to face outwards, I got an Ergobaby Omni 360 carrier (secondhand) and it's fantastic. We used it from 5 months and still use it occasionally now at almost 18 months. You can use it from newborn, if a sling doesn't appeal.
Baby slings

Baby & toddler carriers

A rocker or bouncer
As much as babies love to be held, you're going to have to put them down sometimes. Having somewhere safe to plop them while you go to the loo/make a cup of tea/give your aching arms a good stretch is an important newborn essential. With any luck, your little one will enjoy their bouncer so it's a win-win.
We tried three different popular bouncers (the Baby Bjorn Bliss, the Nuna Leaf Grow and the Charlie Crane Rocker) and the Baby Bjorn Bouncer Bliss was by far our favourite. Our son enjoyed it from a few weeks old through to about 10 months, when he started trying to escape!
It's an expensive item but one you can regularly source secondhand. They lie completely flat too which makes it great for travel and for storing away.

A play mat
Sometimes you need to put your baby on the floor. That might be for tummy time, or it might be because you need a rest!
You don't have to buy anything special for this, a towel or blanket will do.
However, if you do want a dedicated play mat then I'd recommend going straight for something that will last into the toddler years! If you can, investing now in a nice soft, foamy mat will save you the expense of lots of different new baby mats that they won't use when they get older.
We owned several different playmats and it was only when he was 8 months old and learning to sit that we bought a Totter & Tumble mat – and I thought, I wish I'd just got this from day one!
That being said, it is useful to have something you can roll up and transport for at other peoples' houses, on holiday and in the garden. We still use our Toddlekind Waterproof Mat for outdoor play. You don't have to spend lots of money, this one is super cute or you really can just use a towel.

A baby nest
Ahh, the baby nest. Some parents love them, some don't see the point because they're not approved for safe sleep. The most well-known is the Dock-a-Tot (formerly Sleepyhead), which comes in a range of beautiful colours.
We didn't start using a Dock-a-Tot until Ziggy was a few months old, when we were leant one by a family member. Honestly, it was really useful and if we ever have another baby, I'd use it from the beginning which is why it's made my newborn essentials list.
Babies just really seem to like them! We'd pop it on the bed or sofa and even took it on a campervan holiday when he was 12 weeks old. I also stuffed it (it didn't fit that well…) inside our pram bassinet and found he napped much better on the go as otherwise, as a 'centile zero' baby he was just rattling around in a cavernous space.
They also fit inside cots and next-to-me cribs, though babies should be supervised if sleeping in them as per The Lullaby Trust guidelines.

Clothes
Clothes are of course a newborn essential but you can be pretty chill about this category because for weeks and weeks, they'll just live in vests and sleepsuits.
I'd recommend buying 10 newborn vests (long or short sleeves depending on the season you're due) and 10 newborn sleepsuits with built in scratch mitts, and the same again in 0-3m.
Year round, you'll need a cardigan or two.
If it's winter (or a chilly Autumn/Spring) you'll need a pram suit.
A couple of hats – for outdoor use only. If it's summer, you'll likely only need a couple of soft cotton ones for when they're first born and a warmer knit one if you're out in the evening. If it's winter, you may want a little stash!
That's it! Everything else you can buy when they're here and know what size they are and what the weather is like. There's little point guessing – my baby came home in SNOW in APRIL…and didn't fit into newborn clothes until he was 7 weeks old.
A note on sizes: personally I don't think tiny baby clothes are something you need to buy 'just in case' unless you know your baby will not fit newborn. My baby ended up being very small and even when he was in NICU, it was easy enough to quickly source some.

Muslins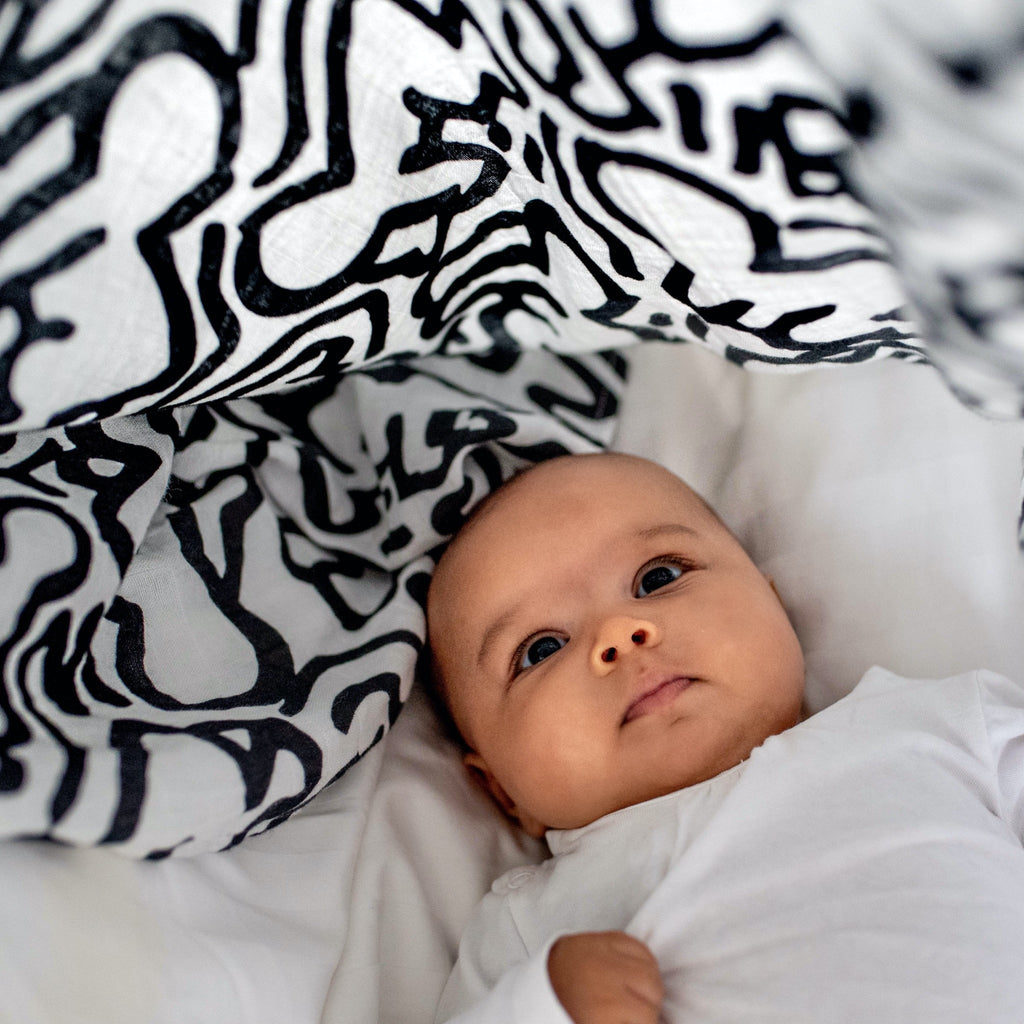 Unless you happen to be lucky enough to have one of those sparkly unicorn babies who mysteriously don't make any mess, muslins are your new best friend and definite newborn essentials. When I say we had (have – we still use them in toddlerhood) loads, I mean we had LOADS.
The square ones are great for mopping up sick and spills and the large ones are good for swaddling, using as a nursing cover, lining prams and moses baskets as a sheet, a lightweight blanket…the possibilities are endless.
Like most baby products, muslins come from the very cheap to the shockingly expensive. The very thin ones aren't great if/when you do have a lake of vomit to contend with.
Our favourites are the Baby Mori ones, Aden + Anais and TU or John Lewis for a more budget friendly alternative.

A blanket
Whatever time of the year it is, your baby is likely to need at least one lovely blanket. You're probably going to receive another 25 as gifts, so our advice is to buy one that you LOVE and that feels special to you. Or knit one if you're feeling crafty!
These personalised cashmere ones from The Little Finery are a real treat and a special keepsake too. We also love @knittingnannyx on Instagram (an actual knitting nanny called Deb; she's fantastic) who takes very reasonably priced bespoke orders for cosy knitted goods – blankets, hats, cardis etc!
On the high street, Jojo Maman Bebe do some lovely options, Baby Mori do brilliant cellular blankets and of course, The White Company is one of the best for combining quality and price. We love this Heirloom style baby blanket (£34).

A changing caddy for at home
If you're lucky enough to have a home with several floors, it can be really helpful to have a nappy caddy and changing mat downstairs so you don't have to keep going upstairs every…5 minutes. Especially while you're recovering from birth.
A sweet changing mat that you can slide under the sofa is helpful too!
These also work as brilliant breastfeeding caddies! Fill one up with everything you need: phone charger, kindle, TV remote, snacks, water bottle, muslins, nursing pads etc ready for when you're glued to the sofa under a cluster feeding milk gremlin.

A changing bag for on the go
Something you're definitely going to need is a changing bag. If you've already got a backpack you're happy to use, that's fine too but it can be helpful to have one with various pockets, an insulated bottle holder if using and a travel changing mat too!
We suggest investing in one you really like because you'll be using it for years. One you're happy to carry around (and dad, or your partner) well into toddlerhood will serve you well.
My personal favourite is the Tiba & Marl Elwood Backpack. It's excellent quality – it still looks new almost 18 months in – and is aesthetically gorgeous. I've no doubt that when the baby doesn't need it anymore (though, do they ever stop needing you to cart around their stuff?!) I'll use it as a day bag/work bag/overnight bag for me!
If you want something more streamlined, these fold out changing clutches that double as a mat are awesome too.

Nappies, wipes and baby toiletries
Perhaps an obvious newborn essentials, but you will need to buy some nappies and wipes before the baby is born. Perhaps don't go too wild though…
Personally, I spent a lot of money on a huge multi-pack box of size 1 nappies by an eco brand. Uber organised, right? Erm, wrong. My baby needed preemie nappies and by the time he fit a size 1, we were happy with a different brand. I ended up giving them all to an expecting neighbour so it was fine, except I wasted about £50! Ouch.
Our advice? The supermarket ones are great. You don't need to spend £8 a pack when you can spend £1.70 so save a few pounds here on your new baby shopping list.
Buy a large pack of size 1 newborn nappies, size 0 if you're expecting a smaller baby. Get the rest when they arrive!
For the booty region, you will also need:
Sensitive wipes (again, the supermarket ones are great)
Cotton wool
Sudocrem
Nappy sacks
For other baby toiletries, we suggest:
Gentle baby bath wash*
Gentle lotion or massage oil
*You don't need to bathe the baby until after their umbilical cord has fallen off. Even then, warm water alone will do. However, in case of a poonami it can be helpful to have a little newborn appropriate soap on hand!
Baby medical supplies
Stock up on newborn appropriate medical supplies so you've got them to hand if you need them. While we're at it, one of the best things you can add to your new baby shopping list is a decent first aid course!
We suggest having these newborn essentials:
Snufflebabe vapour rub
Snufflebabe nasal spray
Fridababy nasal aspirator (yep, a snot sucker. You're welcome.)
Thermometre (under arm is best)
Calpol (2 months + and over 4kg – needed for vaccinations; your clinician will advise and if baby is small or premature, they will calculate the appropriate dose for you)
Sudocrem
This is not medical advice. Remember, you can always take your baby to a pharmacist for minor ailments, or contact your health visitor, GP, 111 or A&E or 999 in an emergency. Trust your gut.
Bathtime supplies
When it's time to bathe the baby, you'll need a few newborn essentials.
A bath seat isn't exactly an essential item because you can just hold them, but many find it helpful to have and you'll almost certainly use it later on if not in the early months so it's a good item to have on your new baby shopping list.
Baby bath
We like this AngelCare one, this SkipHop one or this Nuby tub which is great if you don't have a bath or want to pop them on the counter or save water.
Personally, I either bathed with my baby or washed him in the kitchen sink until he was about 4 months old!
Motherhood Edit Hack: Babies do not like being cold and baths are very exposing. Lay a warm, damp muslin over their skin and they'll be much happier!
Baby bath towel
You'll need a towel. You can definitely just use a normal one but one with a hood is handy too – and extra cute. We love these personalised ones from My First Years or these cute ones from H&M.
Bath thermometer
One of those things your mum will scoff at because she just put her elbow in. We like this one!

A night light
For you, not the baby. When you wake for the night feeds, whether you're breast or bottle feeding, you don't necessarily want to turn on the harsh overhead lights or bright bedside lamp. You also don't want to sit in the dark and risk falling asleep holding baby.
A dimmable night light was one of our best 3am purchases and so makes the newborn essentials for me. They can also be used as the baby gets older. We love this one.

A white noise machine
Babies love white noise. You can just use your phone, or not at all, but this was one of our best ever baby purchases and therefore on my newborn essentials list!
Personally, I say ditch the cute sheep and clouds and go for something small, portable and more functional. We still use it every day for naps and nighttime sleep, as well as on the go.
This is the one that we love and use daily.

If you plan to breastfeed
If you plan to breastfeed you don't need very much in the way of newborn essentials, but there are some supplies that will make your feeding journey easier.
You'll see that we haven't included a pump; it's generally best to give breastfeeding time to establish first (6-12 weeks) but even if you do want to pump, it's not something you'll need from day one. Get going, then spend some time perusing the many options available!
Some mums like to have some formula on hand just in case. Personally, I didn't see the need and didn't feel it would help my breastfeeding goals however this is entirely down to your own preferences and personality. You don't need to take formula to hospital if you plan to breastfeed, they will never let a baby go hungry if needed.
A Haakaa manual breast pump
I know what we just said BUT there's an exception to everything and here, the Haakaa is it. This genius silicone breast pump is brilliant for relieving engorged breasts and catching the let down on the other side (waste not, want not!)
Breast milk collection shells
If you're leaking milk, catching it in a pair of milk collection shells is better than letting that liquid gold go to waste! There are lots of options that you can wear in your bra like the Medela Shells, Elvie Catch, Haakaa Shells.
If you're going to store any saved milk from either of the above, you'll need to ensure the collection products are sterile first (boiling water will do) and you'll need something to store the milk in. We prefer milk collection bags.
Breast pads
After your milk comes in, you'll likely need nursing pads for a good few months. You can get disposables like these Lansinoh ones or reusable ones. The latter are obviously better for your wallet and the environment but do require regular washing or a large enough stash.
Nipple balm or silver cups
Breastfeeding shouldn't hurt. If it does, please seek support from your midwife, health visitor, or better yet a trained IBCLC. However, if you do experience some teething problems, having a balm or cups to hand is very helpful.
Personally, I experienced nipples that looked like they'd been chewed by a hungry honey badger thanks to over-pumping in NICU. These silver cups SAVED ME and worked so much better than any balm ever did. They're expensive, so you might want to wait and see if you need them first.
Your breast milk itself is healing (pure magic) so don't wipe away any dribbles, rub it in to your nipples!
A feeding pillow
Protect your muscles with a supportive feeding pillow. Our favourite is the Bbhugme Nursing Pillow, a U shaped one like this or a traditional V shaped pillow.

Nursing bras
If you're breastfeeding, nursing bras are newborn essentials you can't escape. There are lots of different styles so see what suits you best.
These Emma-Jane ones are brilliant – one in black and one in nude did me through mid-pregnancy and the whole 15 months of breastfeeding. Sleeper style nursing bras are also incredibly comfortable.
Alternatively, these H&M Seamless Bralettes double as fantastic nursing bras! They're so easy to pull down, or up, and are subtle under clothing too with their thin straps. You'll be wearing them long after you finish breastfeeding.

If you plan to formula feed
If you plan to formula feed from the get go, there is quite a lot more equipment you'll need on your newborn essentials new baby shopping list. To streamline things, we've put together a whole dedicated post.
Click here for What You Need to Bottle Feed: Your No Nonsense Guide.
Non-essential (but nice to have!) new baby items
There are of course other NON newborn essentials that you might be secretly vying for on your new baby shopping list. It's totally okay to want to indulge in a few more luxury, nice to have, items. These are also great to ask for as gifts.
Sheepskin pram liner
Sheepskin pram liners can be used all year round due to their hypothermic properties. Not only do they look deliciously snuggly, they also help to keep the baby warm or cool. We love this one from Binibamba. John Lewis also do their own slightly more affordable version.
Buggy bag
When you're out with the pram, having somewhere to chuck your phone/keys/wallet plus a few newborn essentials without having to dig about in the changing bag is really handy. Our favourite is this JEM & BEA one, or this Storksak Stroller Organiser.

A play gym
There are lots of different styles of baby gym available and they're not newborn essentials; my son barely used his beautiful wooden one.
Personally, if I have my time again I'll go for the Lovevery Play Gym; the Montessori inspired toy company makes excellent products designed to be loved and used for a long time.
This is a more affordable version that still offers a fun newborn sensory experience.

Toys
Newborns don't play. They're not teething yet, they can't actually shake a rattle for a good few months. It is totally okay not to spend money on baby toys! However, they can benefit from some sensory fun.
These Etta Loves black and white muslins are dual purpose: practical and sensory. Freddie the Firefly by Lamaze is a baby right of passage that your little one will love as they grow.
SUGGESTED: The Only 6 Baby Toys You Need for the First 6 Months

If you made it this far then congratulations! You're officially baby ready. Sit back, put your tired feet up and take a well deserved nap. You've got this Mama.
READ NEXT: 7 Practical Tips for Surviving Newborn Sleep Deprivation