Singapore has a reputation for being unattainable without a huge budget; I'm here to prove that wrong with the ultimate Singapore guide. When I visited back in December it was just a short layover; I hadn't really anticipated enjoying it much and thought it would be hard to explore without spending too much. Actually, I absolutely loved it and found doing Singapore on a backpacker budget very attainable if you're smart about where you go and what you do. Last month I returned to see some of the famous sights that I missed the first time around and to experience some of the boujier side to Singapore.
Where to stay
On a budget
If you're on a backpackers budget then look for a hostel or guesthouse around Little India, one of Singapore's most vibrant and affordable district. You can read here about my December hostel stay in my budget Singapore guide; it's nothing fancy but it's a great area and a cheap place to rest your head.
Mid-range luxe
M Social Singapore by Millennium Hotel and Resorts, near Clarke's Quay
In a city renowned for being an expensive place to be a tourist, M Social Singapore by Millennium Hotel and Resorts does an impressive job at offering a modern, comfortable space with great amenities in the heart of Singapore's Clarke Quay at a price that won't blow the bank.
As soon as you arrive you'll be intrigued by the ultra contemporary reception with it's Moroccan style floor tiles, jeans and hoodie clad staff and robot called AURA (Automated Room-Service Associate). Yep, there's a robot! Service is friendly and laid back which is quite a welcome change from the often overbearing style in Asia.
The rooms are all NYC loft-style spaces, most with mezzanine floors, designed by interior designer Philippe Starck. The smallest category of room – perhaps generously labelled as 'cosy' – is probably a bit too snug for most but the others offer everything you could want or need. They do a very good job of fitting a lot into a compact space, though I do wonder if the hotel design favours number of rooms over square footage a little too much. I'd have liked more space to have been able to unpack and had I had a large suitcase rather than a backpack, it would have to have sat right in the way.
The amenities are perhaps the most impressive part of the hotel. The open air swimming pool is lovely and little touches like fresh towels and iced water near the loungers are appreciated. There's also a gym.
The location of the hotel is brilliant. It takes less than 10 minutes to walk to the shops and bars of Clarke's Quay and about half an hour or so on foot to reach Marina Bay Sands. If you don't fancy a stroll in Singapore's humidity, the hotel offers a free shuttle service too including to the closest of Singapore's impressive metro system.
Breakfast isn't anything to shout home about but the dinner menu at the in-house Beast and Butterflies restaurant is sensational, so much so that it deserves a paragraph of its own and a top spot in any Singapore guide.
Splurge
Marina Bay Sands, the world famous hotel, is probably Singapore's most iconic landmark; you'll find it in all Singapore guides. It comes with a heft price tag and I've heard mixed reviews. Some complain that it's too big, that the check-in process is airport like and the whole thing feels impersonal. Others deem it worth the splurge for the roof top infinity pool and stunning views across the Singapore skyline.
How to get around
MRT
Singapore has one of the most impressive metro systems I've ever seen. It's ultra clean, air conditioned and affordable. It's also incredibly easy to follow and a lot of the signs and announcements are in English so you're very unlikely to get lost!
By cab
Taxi is definitely a more expensive way to see the city but obviously more comfortable. It's particularly good when you're knackered and can't face a walk to the closest MRT in the stifling Singapore humidity. I suggest downloading the Grab app; Asia's equivalent to Uber.
Free shuttle
If you're staying at M Social Singapore, make use of their free shuttle service! It goes several times a day to a few different locations, including the nearest MRT station (saving you a lot of sweating!)
By kick scooter!
Singpore has recently introduced an ultra eco friendly scooter rental system, akin to Boris Bikes in London and other big cities. You just download the app and top it up and your first scoot is free!
Where to eat
I should start with a disclaimer; I don't often eat in hotel restaurants. I usually find them dated, overpriced and overrated. They usually seem to be more about convenience than substance. Beast and Butterflies could not be more different! The menu absolutely blew all my expectations out of the water.
Pan-Asian fusion style, there's a lot to choose from but if you stick to the noted chef's recommendations then you're in safe hands. My absolute favourite dish was the crispy pork knuckle in Nam Jim sauce, it was so delicious that if I'd consider flying back to Singapore just to get my fill.
This is definitely beyond a backpacker budget but certainly worth it if you fancy treating yourself or enjoying the finer side of Singapore.
The Tekka Centre, Little India
My favourite of Singapore's famous hawker centres; the Tekka Centre is bursting with vibrant and delicious Indian food at a very affordable price. $2 will get you Roti Pratar and curry sauce. Take hand sanitiser and tissues and eat with your hands like the locals.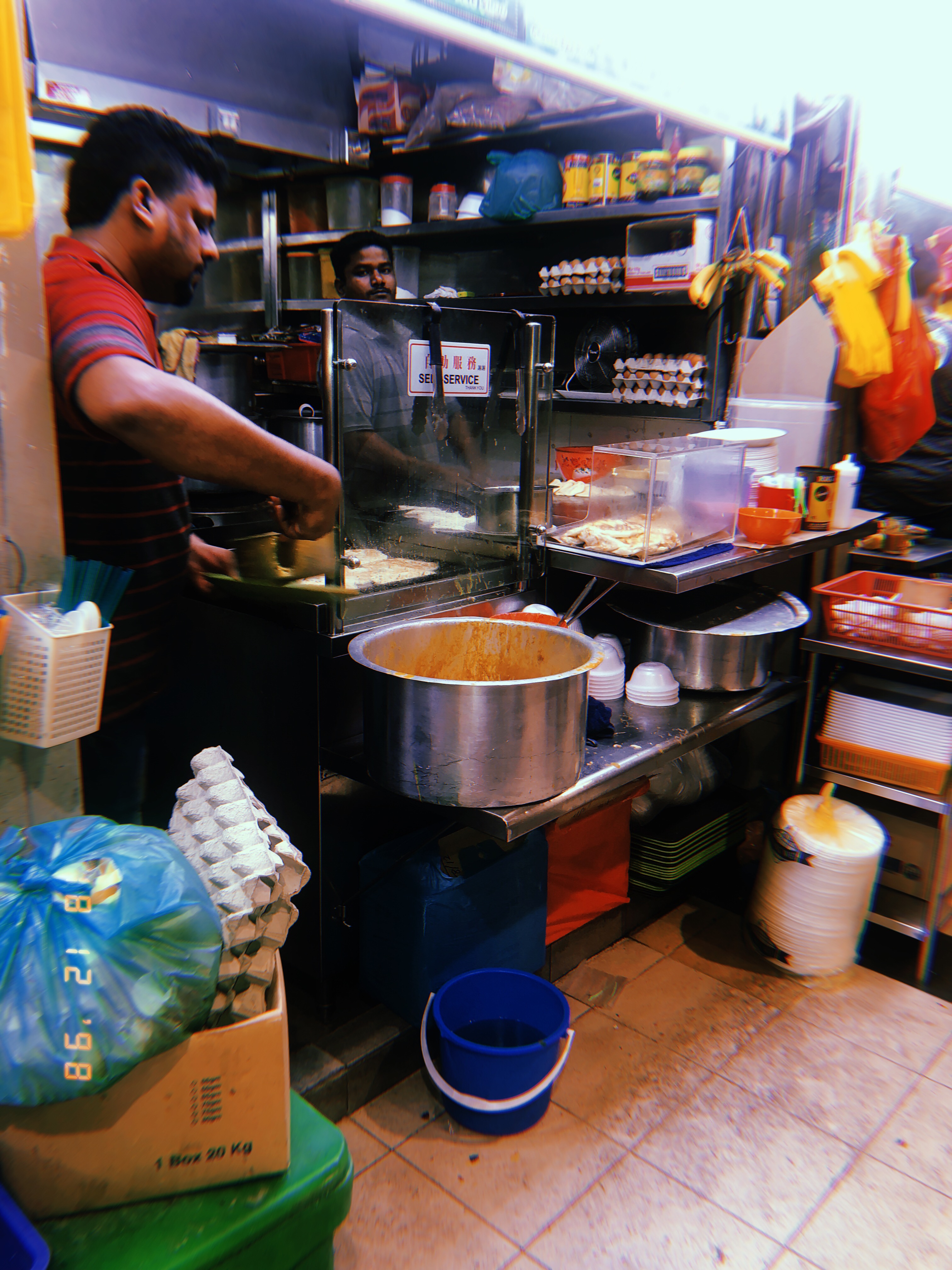 The Maxwell Food Centre
A big hawker centre on the edge of China Town with a great reputation. It's pricier than The Tekka Centre but serves a much wider range of Singaporean and Asian dishes including the famous 'chicken rice' and variants like the battered lemon version below.
What to see
Little India
Little India is one of Singapore's most vibrant districts with beautiful colours everywhere, intricate temples, flower stalls and the smell of curry and incense permeating the warm air. I'd highly recommend spending a morning wandering around and taking it all in! Must see spots include the House of Tan Tent Niah on Kerbau Road and the Sri Veeramakaliamman Hindu Temple. It's an essential part of any visit and gets a top spot in my Singapore guide!
The Mustafa Centre is also worth visiting for the sheer wow factor. It's a ginormous super store selling absolutely anything you can think of and it's open 24 hours! Even late into the night it's still heaving.
An absolute must for any lover of the 90's sitcom F.R.I.E.N.D.S. This is the only official Friends cafe outside of the USA and it's absolutely brilliant! You'll find mock ups of Monica's kitchen, Joey and Chandlers apartment and plenty of familiar memorabilia. The cafe itself is the spitting image of central perk complete with orange velvet sofa for that perfect photo opportunity! Best of all? They play Friends on a constant loop on a large screen. The coffee is expensive but it's well worth it for the experience.
Singapore's oldest garden is a must see for plant lovers and those looking for something to do in the great outdoors. The Botanic Gardens became Singapore's first UNESCO Heritage Site and has been open since 1859! It's perfect for visitors of all ages and the National Orchid Garden (entry fee) boasts the world's largest orchid display with over 60,000 different plants.
Arab Street
Just a short walk from Little India, you'll feel as though you've left Delhi and stumbled into Turkey or Morocco. Kampong Glam is the Arab area and taking centre stage is the impressive Masjid Sultan; a large mosque with a bright golden dome. Here you'll find plenty of Turkish and Moroccan food as well as beautiful rugs and keepsakes.
Marina Bay Sands Mall
The world famous Marina Bay Sands complex features an incredible (and incredibly expensive mall). Even if you haven't got the budget to go on a shopping spree, it's worth a visit to marvel at the sights and people watch. Look out for the canal and gondolas riding through the middle!
China Town
China Town is another of Singapore's vibrant cultural district. Wander around the beautiful streets, eat lunch at the Maxwell Food Centre and then shop for souvenirs at the bustling street markets.
The Art Science Museum right next to Marina Bay Sands Mall features various exhibitions. Team Lab's 'Future World' draws large crowds, mixing art with science to create stunning light displays and interactive experiences. It's very family friendly with lots to do for children! There are also shorter term exhibitions running for a few months each such as 'Floating Utopias', 'Wonderland' (Alice in…) and Rewild Our Planet; Singapore's first augmented reality experience.
Koon Seng Road, Joo Chiat
Koon Seng Road features a rainbow of beautiful facades that draw plenty of visitors. They're far more than an Instagram dream though and display historic Peranakan culture. The Peranakans were straits-born people of Chinese, Malay and Indonesian heritage who settled in the area between the 15th and 17th centuries. The stunning double-storey terrace houses tell stories of their inhabitants past. There also brilliant restaurants and a strong cafe culture in the area.
Walk the Southern Ridges
The Southern Ridges is a 10km walk across purpose built trails with fantastic views, luscious greenery and a famous art installation; the Henderson Wave. Start at Pasir Panjang MRT, walk up Pepys Road and begin the trail through the forest and Hort Park to the Alexandra Arch. It's not particular strenuous and mostly flat, the biggest challenge is the humidity so wear sunscreen, a hat and take lots of water!
Watch the Free Light Shows
Every night at 8pm and 9pm there's a free light show on the marina outside the Marina Bay Sands Mall called 'Spectra' as well as at Gardens by the Bay at 7pm. It's a real extravaganza and definitely worth making time for after dinner!
Gardens by the Bay is one of Singapore's most famous attractions. It's absolutely stunning and worth visiting early before the crowds descend! The outside gardens and the tall, multicoloured tree structures are free to walk around. To enter the Flower Dome and the Cloud Forest you must purchase an entrance ticket at $28 SGD per adult. It's expensive but definitely worth doing! You can also wander the tree top walk way for an additional fee.
I'd advise arriving early. The conservatories and ticket office open at 9am but you can wander the free gardens before that whilst they're cooler and empty.
Orchard Road
Orchard Road is Singapore's main shopping district. Here you'll find plenty of malls, high street names, restaurants and cafes. It's very commercialised but perfect if you're after some retail therapy or some guaranteed air-con!
Changi Airport
It might seem a weird thing to feature in a Singapore guide but Changi is one of the best airports in the world and a pleasure to fly from! Make sure you visit the brand new feature, 'The Jewel', as well as making the most of the free foot massagers, games consoles and sunflower garden.
I hope you've enjoyed my Singapore guide! Let me know if there are any hot spots that I've missed!
Enjoyed The Ultimate Singapore Guide? Pin it for later!