Kangaroos at Lucky Bay, Cape Le Grand National Park
Western Australia was one of my absolute highlights of our first trip down under. I couldn't believe it was the same country; the beaches rivalled those I've seen in the Caribbean. Here's my 9 day Western Australia Perth to Esperance Road Trip itinerary! I guarantee you ridiculously blue waters, kangaroos frolicking on the beach at sunset and maybe even a dolphin or two!
Perth to Esperance by Campervan
The best way to explore the vast state that is Western Australia, or at least this little south-west coast corner of it, is to self-drive. This road trip is practically made for a camper van and it's where I really learnt to get into the groove of #vanlife by discovering the joys of freedom camping and the total flexibility to explore at your own pace.
The only place I'd ever rent a campervan in Australia or New Zealand is with RatPack Travel. They're an indie biz focusing their efforts staunchly on making sure customers get an epic deal, feel confident and roadie-ready and leave with a personalised calendar bursting with bucket list moments. Essentially, they're a by travellers for travellers company and a million miles away from the stuffy, commission-driven high street.
To prove his commitment to giving customers the best experience possible, Sammy, the founder of RatPack, passes on a cut of his own profits, promising to always be the cheapest place to rent from. If you've booked your flights to Australia or have dates in mind for your roadie then I suggest getting in touch with him immediately as vans book up fast!
Contact via this form here or via WhatsApp here. Make sure you mention my name so he knows you're extra awesome!
9 Day Western Australia Perth to Esperance Road Trip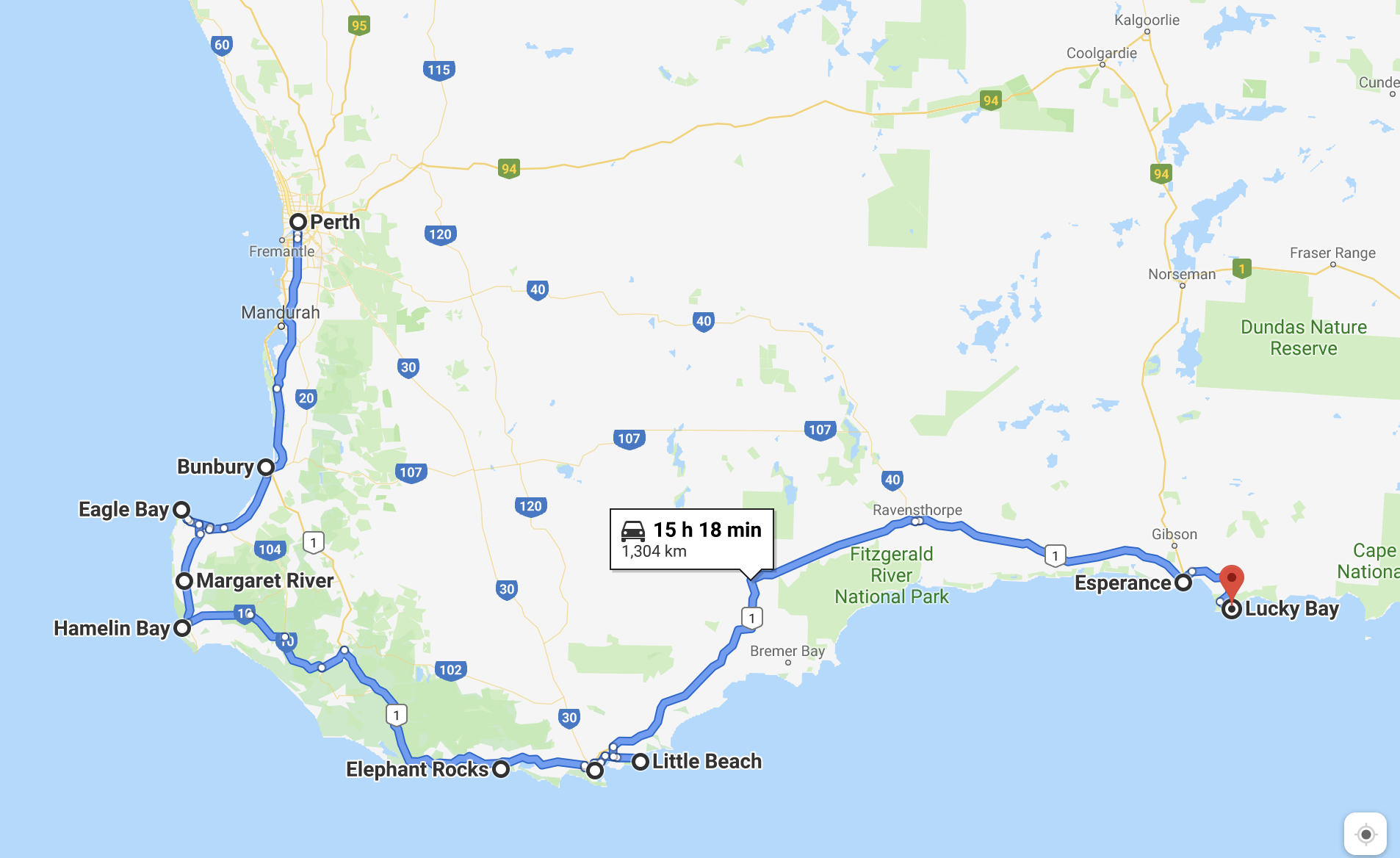 Day 1: Perth
Land in Perth and get yourself settled into an Airbnb or hotel for a couple of nights. We arrived in the evening so went straight for pizza and bed, but if you've got some exploring time then get acquainted with this calm and collected Aussie city.
Day 2: Perth
Explore Perth today! We loved chilling in Kings Park with a book overlooking the sparkling water. There are tonnes of spots to check out and if you want to venture a little, head over to Fremantle, just 30 minutes on the train. It's known for being an artsy, foodie haven where you can drink good coffee and listen to buskers serenade you on the street. Lonely Planet rated it the 7th best city in the world in 2016, ahead of Rome!
Day 3: Perth (Rottnest Island)
Catch the earliest ferry over to Rottnest Island; home of breathtaking beaches, excellent snorkelling and everyones favourite random Aussie animal; the quokka! You may even want to stay in Fremantle the night before, as that's where the ferry goes from. I'll write a separate post on Rotto, but trust me you're going to have an epic day. Hire electric bikes and be the envy of Instagram with a famous #quokkaselfie (Google it!)
Day 4: Pick up van and drive to Bunbury | 2 hours
Today you get acquainted with your new BFF on four wheels. Drive a cruisy 2 hours down to Bunbury and find somewhere to chill for the afternoon and camp for the night. You may arrive and wonder why I've sent you to what seems like a nice, but fairly bland family seaside town…The magic happens tomorrow morning when you'll get a chance to meet Bunbury's resident wild dolphins who will swim around your legs at just knee height out in the bay!
Head down to the Dolphin Discovery Centre for around 8am and enjoy your brekky on the beach as you wait for the dolphins. They are wild so it's not guaranteed, but they've been coming into the bay every morning for years and years. It's totally free to enjoy but gently regulated by kind volunteers who look out for the dolphins welfare. After about an hour or so, 3 appeared and we had the absolute joy of seeing them swim and show off right in front of us!
Day 4: Eagle Bay and Margaret River | 2 hours
Head another 2 hours south towards Margaret River, stopping off at Busselton and Eagle Bay. Busselton is home to an epic jetty that stretches 2km out into the sea and is a hotspot for humpback whales during the season! Eagle Bay is a great place to park up, go for a swim in the pristine waters and have lunch on the beach before arriving in Margaret River in the early afternoon. My favourite was Meelup Beach, it's a little smaller and quieter.
Margaret River is one of Australia's most famous wine regions. You can either join a guided tour or vineyard tasting, or just hop between cellar doors enjoying the (usually free) samples! Just watch that obviously, you're driving.
If you fancy a treat, La Scarpetta Trattoria does a great pizza.
Day 5: Hamelin Bay and Augusta (30 mins) > Albany via Denmark Elephant Rocks | 4 hours
Wake up early and drive to Hamelin Bay for a morning swim with some very impressive marine friends. Every morning, at around 8am, giant stingray come and sweep the shores of Hamelin. They're very inquisitive so will swim right up to paddlers, brushing over your toes! Like the dolphins, these are wild animals so encounters can't be guaranteed, but chances are very high. There's a shower at Hamelin Bay, perfect to freshen up after a dip before you hit the road.
If you want, you could also pop by Augusta. Flinders Bay is a great swimming spot and there's also Cape Leeuwin Lighthouse and the Cape to Cape walk track. It's the nations longest coastal path and, at 140km, takes 5 or 6 days to complete, but you could always pop down to the beach and see a bit of it!
After that, you've got a 4 hour drive ahead to Albany where you'll spend the night. Be sure to stop off via Elephant Rocks and the Green Pools in Denmark!
Day 6: Little Beach > Esperance | 5 hours
Albany has plenty of stunning beaches to explore but we headed straight for Little Beach in Two People's Bay. It's absolutely postcard perfect and, if you go in the morning, almost deserted too! I described the sand as 'icing sugar', it's that white and soft, and you just won't believe the colour of the water.
After you've finished swimming and taking a gazillion photographs, it's time to hit the road and tackle a 5 hour stint east to Esperance. The roads in WA can be pretty long and lonely so make sure you stock up on snacks, tunes and an exciting van-buddy. Also, fuel up when you get the chance.
Day 7: Lucky Bay
Wake up in Esperance and drive the hour through the Cape Le Grand National Park to renowned Lucky Bay. If you've got a 4WD, you can even park up down on the beach (though beach driving is often prohibited in rental vehicles, so be sure to check first). As well as crystal clear water and ultra white sand, Lucky Bay is home to a large colony of kangaroo who just love people. Don't be surprised if a cheeky joey ends up with their paws in your picnic basket! Come sunset, the beach is teeming with them and it's just spectacular to see.
Day 8: Drive back to Perth | 9 hours
Here's the not so fun part. Of course, if you've got more time you can either do the road trip in reverse, stopping off at different places, or you can split the drive up. We actually tackled the whole 800km in one stint (splitting the driving) after leaving Lucky Bay at about 6pm. We arrived at a free camp just outside Perth around 2am. I can't responsibly recommend this as driving at night in Australia really isn't the wisest idea; 'roos on the road are common and the road trains go thundering past too.
Day 9: Morning at Cottesloe Beach > Drop van back
Spend the morning wave jumping in the mega swell at Cottesloe Beach and make use of their awesome free shower and changing room facilities. There are BBQ spots to cook up a tasty brekky before heading back towards the depot to say goodbye to your trusty van. The depots are (usually) super close to the airport, which is handy if you're flying out straight away.
Have you done a Perth to Esperance road trip? Let me know your favourite spots!
You may also find these posts helpful
10 Things You Wanted to Know About Hiring a Campervan in Australia and New Zealand
Things You Need to Know Before Hiring a Campervan in Australia
15 Reasons Australia Should be on Your Bucket List
50 Things You Need to Know Before Travelling to Australia
Great Ocean Road Trip Itinerary
Ultimate East Coast Australia Bucket List
Pin Perth to Esperance Road Trip for later!