Singapore is a fun, vibrant and diverse city and it's also conveniently on many of the main airline routes from Europe towards the Pacific and across Asia making it a great stop for backpackers on a budget. You can often arrange a layover in Singapore – like I did en route to Sydney – without actually spending anymore on travel. However, it's also renowned for being a relatively expensive city with lots of bougie bars serving famous Singapore Slings, the renowned Marina Bay Sands hotel and complex and expensive entry into a lot of the main tourist attractions. As it turns out though, some of the most fun to be had in Singapore is hidden in the colourful depths of it's ethnic quarters where prices are considerably lower and there are lots of great things to do for free too.
Quick Fire Guide
How many nights?: 3 days is plenty (I arranged my onwards flight for 02:00am, giving me an entire full day, a night in the air not having to pay for accommodation and a chance to chill out at the famous Changi airport)
Time Zone: GMT + 8
Plug socket: UK
Currency: Singapore Dollars (card widely accepted but have cash for street food and tube network)
Language: Mandarin, Malay, Tamil and English (very widely spoken)
Weather: average 30+ degrees Celsius all year round, very high humidity
Where to stay
Stay in Little India, one of the most vibrant and, in my opinion, most enjoyable districts of Singapore. It's much cheaper than staying in the CBD but is also more than central enough to quickly zip around on Singapore's ultra-efficient tube network or even walk about (if you can brave the humidity).
At £70 for 2 nights including all service and cleaning fees, the private double hotel room I booked surpassed all expectations. If it's your first time on Airbnb go through this link: you'll get £25 off your stay (nearly a whole night free!) and I'll earn some credit towards my next adventures too! I couldn't praise it highly enough for the value. It was super clean, quiet and very comfortable and here was free wifi, a free washing machine – backpacker jackpot! – and a communal kitchen with things like a fridge and kettle. The housekeeper was great the place felt really safe and secure.
Little India station was just a 3 minute walk away, as was my favourite dinner spot, the Tekka centre.
Where to Eat
Singapore is renowned for its Hawker centres; cheap street food served from stalls in what is essentially a large covered market. The etiquette for these places traditionally dictates that you 'chope' a seat first by placing a packet of tissues or your drink on it, then go and choose your grub. However, even at busy times getting a seat really wasn't much of a fuss!
The Tekka Centre
By far my favourite of the hawker markets and a must if you love Indian food! It was also the cheapest and most authentic feeling that we visited. There was a really laid back feel and plenty of locals were busy enjoying their late evening meals too. Order the Roti Pratar (soft, tissue-like roti bread with curry sauce) for about $2 for enough for 2 or a butter chicken curry and a garlic naan for a grand total of $5 (about £2.70!) and dig in with your hand. Take hand sanitiser and tissues for before and after your meal!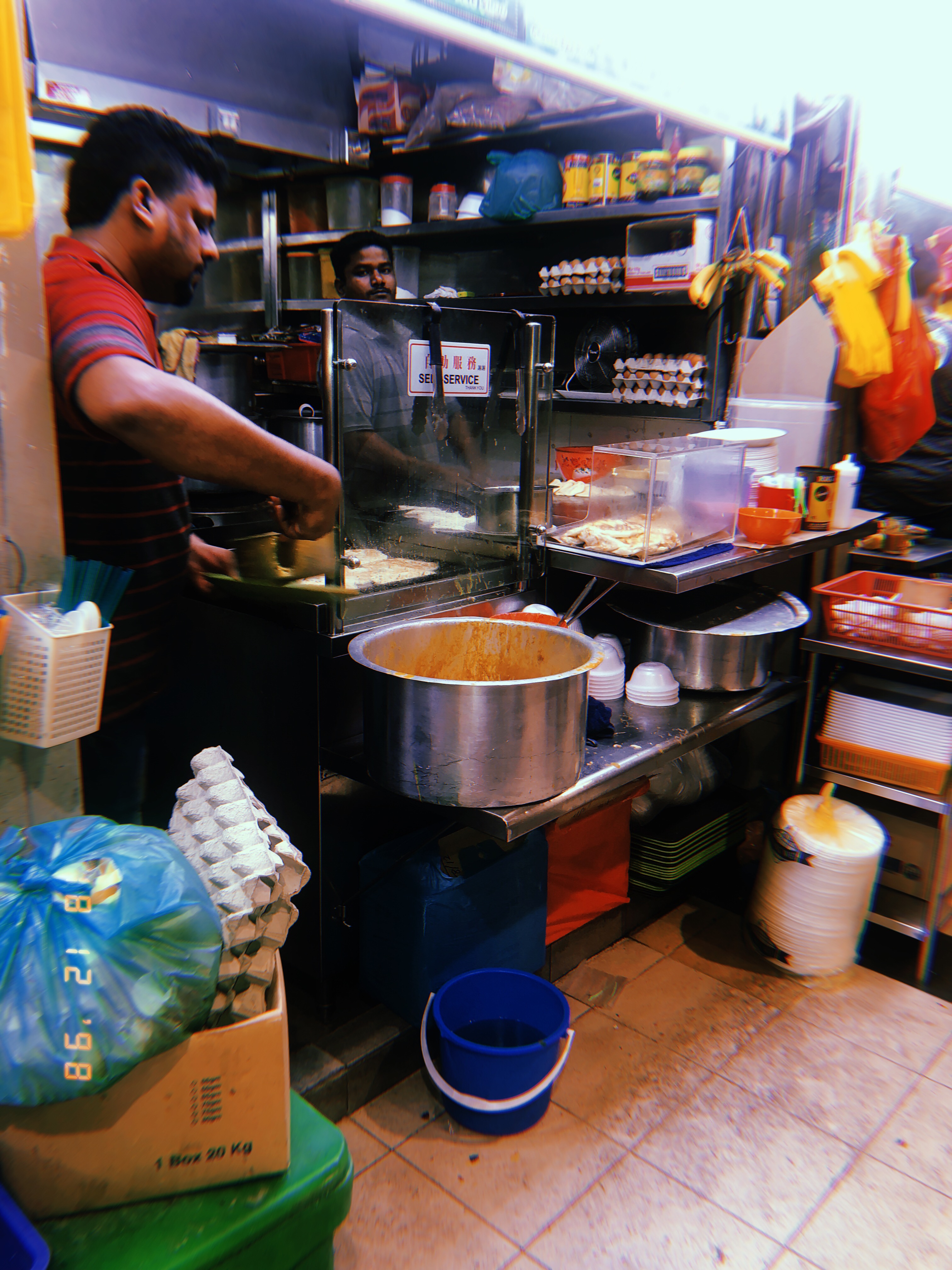 The Maxwell Food Centre
Maxwell is one of the biggest hawker centres on the edge of China Town. It's got a great reputation but I found it a bit expensive relative to the Tekka Centre. Still, at around $6-8 a head for a meal (and portions are hearty – they can be shared between 2 if you're really watching the pennies) it's still considerably cheaper than a restaurant. Whereas the Tekka Centre is all Indian food, Maxwell houses a variety of Asian cuisines and even the odd Western option too if you're that way inclined. Salted chicken and rice is a real favourite.
Telok Ayer Market
Located in the heart of the CBD, the Telok Ayer is most renowned for 'satay street', where at 7pm each night the hawkers come out onto Boon Tat Street with their BBQ ovens and their sticks of skewered meat and satay sauce. Having read in the Lonely Planet guide to Singapore that satays are around 60c each, I made the trek with a very hungry tummy. To my dismay, it was more like $35 for a dozen (and they're the skinny kind) which just seemed wildly expensive. Disgruntled, I went into the Telok Ayer hawker centre instead and ate some honey sesame chicken and rice from a Thai vendor which was tasty, but a little overpriced. The cost reflects the location but it definitely wasn't the satay I was after and I can't understand how the guide book (a recent edition!) got it so wildly wrong.
Free things to do
Explore Little India
Visit the streets of Little India where you can wander through markets burning incense, selling jewellery and cloths and painting henna tattoos. The rainbow coloured House of Tan Teng Niah on Kerbau Road is a must see (and a must Instagram!) and the Sri Veeramakaliamman Hindu Temple – one of Singapore's oldest – just down the road is spectacular. The roof is carved with hundreds of brightly coloured, intricate statutes and if you head inside (take your shoes off, cover your shoulders) you can stand back and watch as people work and pray alongside one another.
The Mustafa Centre is a must-visit, largely because it's so surreal. It's a huge 24 hour store that sells pretty much anything you can think of. Even at 10pm it's busy and so worth just wandering around, even if you'd don't need anything!
Eat at the Tekka Centre and order a lassi if you're after a sweet treat!
Wander along Arab Street
One of the best things about Singapore is its cultural diversity: just a short walk from Little India you'll stumble across Kompang Glam. It's hard to miss because the giant golden dome of the Masjid Sultan (mosque) shines brightly in the sun and you'll notice as the streets giveaway to shops selling Arabic goods such as intricately patterned rugs and evil eye themed keepsakes and restaurants serving Moroccan food.
Visit the Gardens by the Bay
The Gardens by the Bay are probably one of the most iconic elements of the modern Singaporean skyline. Beautiful, tall structures that look like giant trees are intricately woven with garden walk ways and huge greenhouses. Visiting is a must but it comes with a price tag that isn't all that backpacker friendly. Thankfully though, if you're willing to give the conservatories a miss then the outdoor gardens are totally free. You can wander round the sun pavilion, the heritage gardens, the world of plants and the dragonfly & kingfisher lakes, as well as standing beneath the giants in Supertree Grove without spending a penny.
Hike the Southern Ridges
A little less talked about, but some of the most fun you'll have in Singapore and absolutely free. 'The Southern Ridges' is a 10KM stretch of open space, purpose built trails and gorgeous views across the city. You can choose at what point you join the trail – some people just want to do the famous Henderson Wave – but I'd recommend getting a train to Pasir Panjang, walking up Pepys Road and starting around the X then taking the trail through the forest (keep an eye out for monkeys!) and Hort Park before crossing the Alexandra Arch. If you want to shorten it, start at the Alexandra Arch. Honestly, as a 'hike' it's fair less strenuous than it sounds; the biggest battle is Singapore's heat and humidity so take lots of water and maybe a few snacks. The trail is really clearly sign-posted and very structured: you're not trekking through the forest and normal trainers will do (I wore Converse).
People watch at Marina Bay Sands Mall
The Marina Bay Sands complex, featuring a world-renowned hotel, casino, mall and conference centre is a bit surreal. The mall is a great place to people watch and features an actual canal with gondola rides through the middle! Don't expect to do any actual shopping unless you remembered your Black AMEX…
Watch the free light shows
The light and water shows happen every evening at both 8pm and 9pm at Marina Bay Sands. It's called 'Spectra' and aims to reflect multi-cultural Singapore as well as putting on an extravaganza for visitors. It's about 10 minutes long!
Changi Airport
It might seem weird to list an airport as a 'thing to do', but if you're flying from Singapore then it's definitely one to make the most of. You'll find free foot massage machines (a dream after that 9KM hike), free games consoles, a slide and various touches like a sunflower garden to go and relax in.
Like this post? Pin it for later!