So, you've decided the time has come to go on your first overnight family adventure (exciting!) and you need to figure out how best to get your little one to sleep in a new location. Whether you're jumping on a plane, heading for a staycation or simply off for a sleepover with the grandparents, you need to know which are the best travel cots. Which has a mattress that your baby might actually sleep on? Which one is secure enough for the almost-toddler who's just learnt to pull themselves up? We've done the research so you don't have to. Below are what we consider to be the best travel cots currently on the market. Happy shopping (and sweet dreams little one!)
5 Best Travel Cots for Home and Away

If you're looking for a travel cot that's sturdy, comfortable and pops up in a flash (really!) then look no further. Suitable from newborn with the included carrycot insert, it takes ONE SECOND to unfold and three seconds to fold away – without having to remove the mattress! The all round air-mesh means its a thumbs up for excellent ventilation and it stows away neatly without taking up space. It's also nice and light so it's easy to take on your international trips with you. Motherhood Edit Editor, Beth, owns this travel cot and loves it – she says they carried it on to the Eurostar and around Amsterdam with no complaints!
Weight: 8.2kg
Age: newborn to 15kg

Space is always at a premium when it comes to baby equipment and this travel cot has it in spades. The Joie Commuter not only folds and unfolds in an instant, it has integrated wheels for easy manoeuvrability, a full size removable bassinet and a secure changing unit all in one.
Weight: 11.2kg
Age: newborn to 15kg

The Hauck Play n Relax is one of the best travel cots if you're looking for a multi-use design at an affordable price. Not only is it a comfy place to sleep, with a newborn height level to save your back too, it also makes a great crawl-in playpen AND a changing table. It's not the lightest but it is on wheels making it perfect for staycations or keeping at the grandparents house! The tilt-proof design makes it ideal for even the most active of toddlers.
Weight: 10.5kg
Age: newborn to 3 years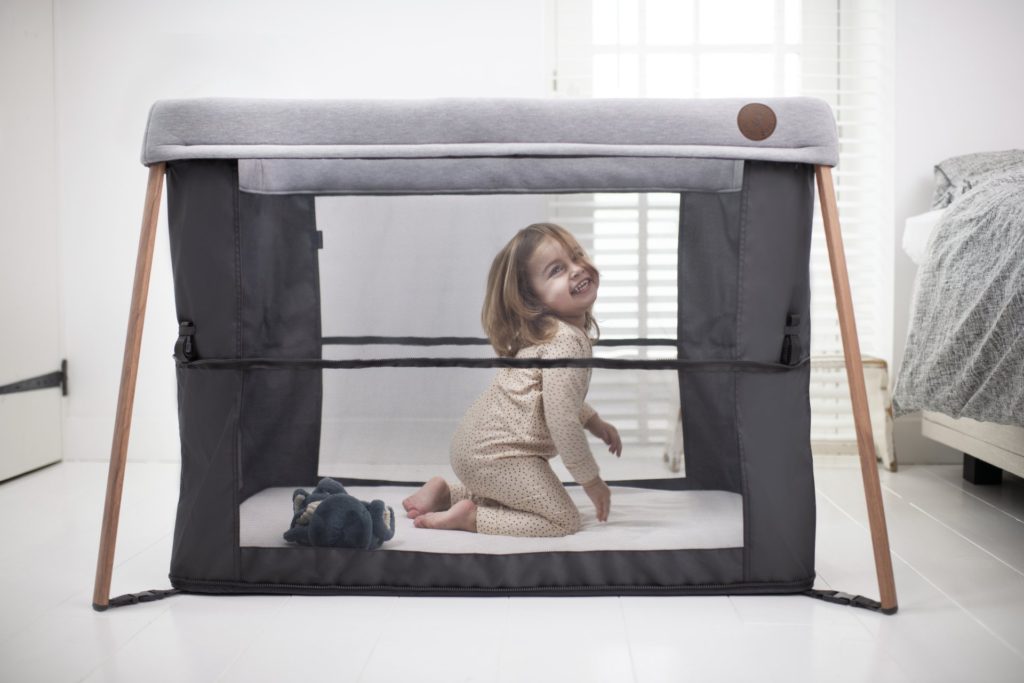 If you want top notch functionality, style and an ultra lightweight travel cot, this ones for you. Suitable for newborns and weighing less than 6kg with a super compact fold, this is one of the best travel cots on the market. We also love the dual height option, meaning your not straining your back for extra little ones and the shoulder strap making carrying it through airports a breeze.
Weight: 5.9kg
Age: newborn to 3 years

The Micralite gives you extra bang for your buck as this travel cot doubles as a play pen! It's super light which makes travel a breeze but you'll also get plenty of use out of it at home too – particularly when baby learns to crawl! It's stylish and pops up in 2 seconds but the newborn insert is sold separately.
Weight: 6.2kg
Age: newborn to 3 years
SUGGESTED: 8 Best Travel Prams to Suit All Budgets