Yes, that tiny little newborn really is about to turn one. We can't believe it either *insert sobbing emoji*! We've taken the legwork out of finding the best 1st birthday gift for you. Take a look at our curated list of presents for one year olds.
1) Ride On Car Toy £120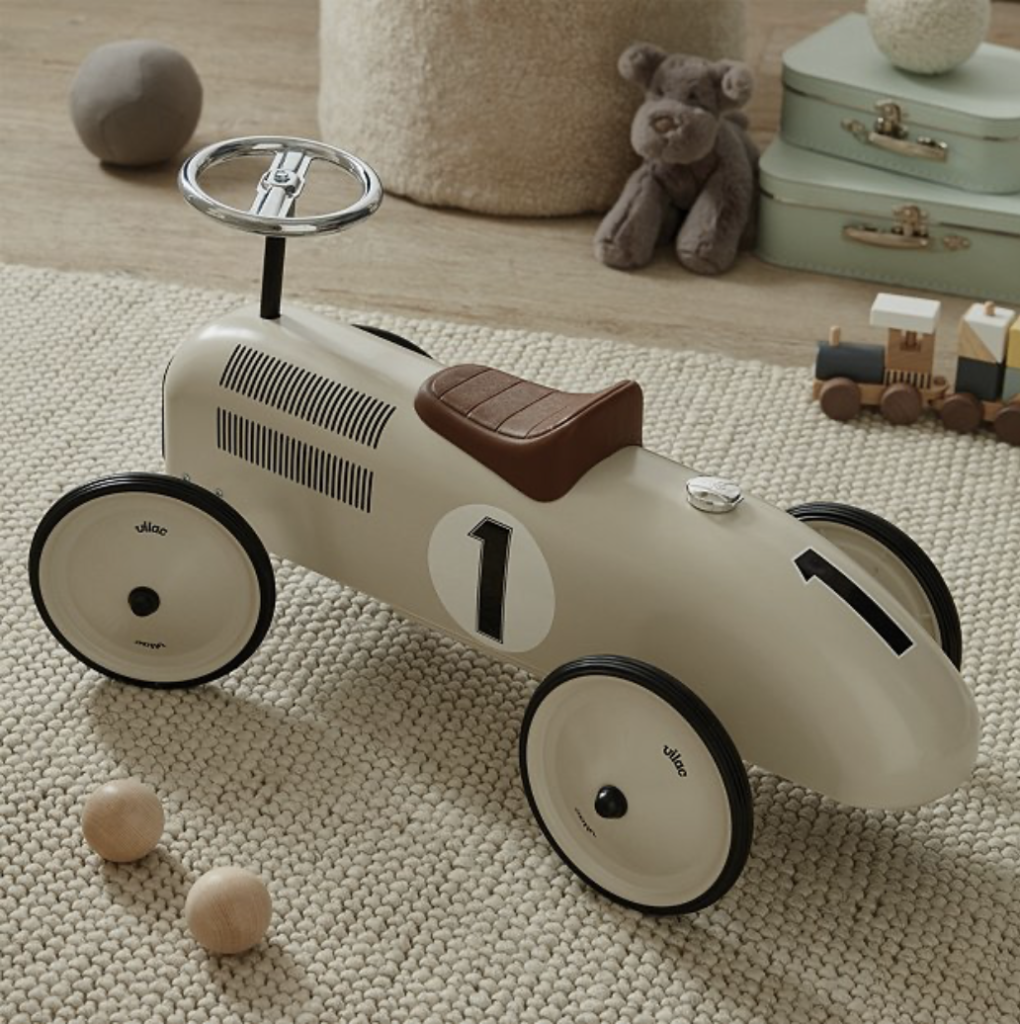 Beautifully made by specialist French toymakers Vilac, this ride on is the perfect 1st birthday present guaranteed to bring endless fun over the toddler years AND look aesthetically pleasing in the playroom!
2) The Babbler Play Kit, Lovevery £120
These Montessori-based baby and toddler Play Kits are designed to offer your child stimulating and educational play at every age. The kit contains a variety of different wooden toys and games as well as a play guide for parents on how to get the most out of them.
3) Personalised Push-Along Activity Walker, My 1st Years £65
Encourage your one year old to take their first steps with the help of this beautiful wooden baby walker. The irregular shaped blocks offer fun throughout the toddler years and the walker can be personalised for free (though we'd always suggest considering whether this is limiting for future siblings!)
4) Baby Doll Rosa by Little Dutch, Pip & Panda £33.95
This sweet plush doll complete with a carrycot, bottle and dummy is the perfect way to nurture gentle play in your toddler. It's soft and ideal for little hands in either a Rosa or Jim version. We're big believers in boys being offered the chance to play with dolls too!
5) Activity Table, Le Toy Van £80.00
This multi-sensory wooden activity table is a delight for babies and toddlers! It encourages standing whilst entertaining your little one with a whole host of things to explore. Built to last, this environmentally friendly 1st birthday gift will be enjoyed for many years to come.
6) Little Dutch Play Kitchen in Mint, Kidly £109.95
The perfect scandi-style play kitchen that will look stylish in your home. The gorgeous wooden accessories offer everything your one year old needs for imaginative play. You can even extend the height to suit the average 8 year old!
7) Florence Fairy Ragdoll, JoJo Maman Bebe £19.00
Florence is an ideal companion for your toddler and a beautiful 1st birthday gift! She's large, plush and oh-so huggable with detachable wings and optional personalised embroidery on her skirt.
8) Plum My First Wooden Play Centre, John Lewis £289.99
Transform your garden into an adventure paradise with this versatile piece of wooden play equipment. With a slide, tent, scramble net and rock climbing wall the play opportunities are endless. Perfect for toddlers and children all the way up to 40kg, this is a 1st birthday gift that your child will be playing with until they finish school!
9) Andes Animal Stacking Toy, Le Toy Van £15.95
These beautifully painted wooden mountain animals are perfect for little hands to learn to stack, build and topple endless towers. They come in a cotton bag ideal for travel and are a great way to learn about wild animals too.
10)Whale Bubble Machine, Chad Valley £12.00
It's a universal fact: babies love bubbles! Secretly, so do adults. Bring the fun to your little one's 1st birthday with a bubble jet machine and you really will be forever blowing bubbles – effort free!
11) The World of Peter Rabbit by Beatrix Potter Books Collection, Aldi £29.99
If you'd rather buy a keepsake 1st birthday gift that will be enjoyed for many years and generations to come then a classic book collection is a very classy choice. We love this Peter Rabbit book set and the Winnie the Pooh book set too, both on an excellent offer at Aldi!
12) Pull-Along Lilo Lamb, The White Company £26.00
Pull-along toys and brilliant for toddler development and we love this adorable, fluffy little friend called Lilo. Best of all, the collar, lead and wooden wheels can be easily removed so that she becomes a cuddly bedtime companion too!
13) Olli Ella Strolley in Natural, Kidly £99.95
We adore this convertible pram and trolley in aesthetically pleasing handmade rattan weave. Whether pushing toys around or pretending to shop at the market, this trolley will help your child develop their walking, movement and play from early toddlerhood through to childhood. What a beautiful 1st birthday gift!
14) Plant and Pick Veggie Patch, JoJo Maman Bebe £35.00
How absolutely gorgeous is this wooden interactive vegetable garden from JoJo Maman Bebe? It will encourage fine motor skills, imaginative play and healthy eating conversations with toddlers of all ages. We love the attention to detail, such as how all the accessories fit safely inside the patch for neat storage!
15) Mini Micro 3 in 1 Deluxe Push Along Scooter, Kidly £118.00
The only scooter you'll need from their first steps to the school run. This toddler and children's scooter from Micro Scooter is designed to adapt as your child does making it a perfect 1st birthday present!