There is no shortage of cool things to do in NYC. In fact, New York is teaming with incredible experiences. It's one of those destinations that you could visit for a weekend, a week or a month. It makes a great city break but you'll just never be able to cover it all!That's why I've teamed up with Klook UK – an awesome, super user-friendly activity and travel booking app – to bring you my favourite cool things to do in NYC!
This post is sponsored by Klook UK. Klook discount code: Use BETHKLOOK for 5% off of ANY booking until the end of April.
10 Cool Things to do in NYC
Go to the Top of The Rock
The top of the Rockefeller Centre is my favourite view in all of New York City! A Klook VIP ticket allowed us to skip the lines so we spent plenty of time spotting famous landmarks like the Empire State Building and the Statue of Liberty. On a clear day you can see for miles and I've heard it's extra magical at night! Book here.
Explore Williamsburg
Williamsburg is a hip and up and coming Brooklyn neighbourhood. It's super close to Manhattan on the metro but away from the usual tourist hustle and bustle of the island. You'll find cool places to eat, quirky bars and plenty of independent shops. From the rooftop bar of the Hoxton Hotel you can enjoy a great view back over the city.
Take a Helicopter over the Manhattan Skyline
A helicopter flight is a bucket list experience. Where better to tick it off than New York City itself?! A flight will start from the Downtown Helipad and take you up close and personal with the Statue of Liberty, before seeing Manhattan from a whole new perspective! Book here.
Be Entertained by Broadway Hopefuls at Ellen Stardust Diner
Ellen Stardust diner: yes it is worth the queues! Okay, the food isn't amazing and it's a bit gimmicky but you'll be served by Broadway hopefuls with some real lungs on them. It's an all singing, all dancing spectacular way to spend a meal and definitely up there with the cool things to do in NYC. Hint: some people pay a TaskRabbit to queue for them – savvy!
Eat at Sweet Chick
Sweet Chick was my favourite meal that we had in NYC. Born in Brooklyn, it's a Waffle House with a difference! Perfect for when you're in need of some Southern comfort food and a cocktail or two. Try the spiced pecan waffles or the maple chipotle fried chicken.
See a Show on Broadway
One of the top cool things to do in NYC is definitely seeing a show on Broadway! Whether you're into plays or musicals, there are so many to choose from and lots of great tickets for sale on Klook. I saw Harry Potter and the Cursed Child and whilst it wasn't my favourite show ever, it was so easy booking the tickets on the app and having them ready for collection! I felt sorry for the huge line of people queuing in the cold…Book here.
Walk across the Brooklyn Bridge
Brooklyn Bridge is so iconic that just walking across it is an activity in itself! Plus, you get to explore DUMBO and then the area around the 9/11 memorial and World Trade Centre Museum. The views across to Manhattan are great and if you time it right you can take an awesome photo that *looks* like you're the only one there! Spoiler: you won't be.
Shop for Designer Bargains at Century 21
Century 21 is a huge designer concession store. Visit the one right by the World Trade Centre museum! It's huge. I did all my Christmas shopping in one swoop at a brilliant price.
Go for a Walk in Central Park
Central Park is not short of awesome movie locations to spot! See if you can find the Friends fountain, the famous little bridge and the steps from Friend with Benefits. This big open green space is the perfect respite from the bustling city.
Visit the 9/11 Memorial
No visit is complete without paying your respects at the World Trade Centre Museum and the 9/11 Memorial. Klook sell a discounted combi ticket that allows you access to the stunning views from the One World Observatory as well as entrance to the memorial. Book here.
Traveller tip: I'd also recommend buying a Go City Card. It's just £68 on Klook and allows you access to 90+ tours and guided attractions, hop on hop off bus travel and entrance to a set number of top attractions of your choice including the Empire State, Top of the Rock and the Yankees Stadium.
What are your favourite cool things to do in New York City?
Pin 10 Cool Things to do in NYC for later!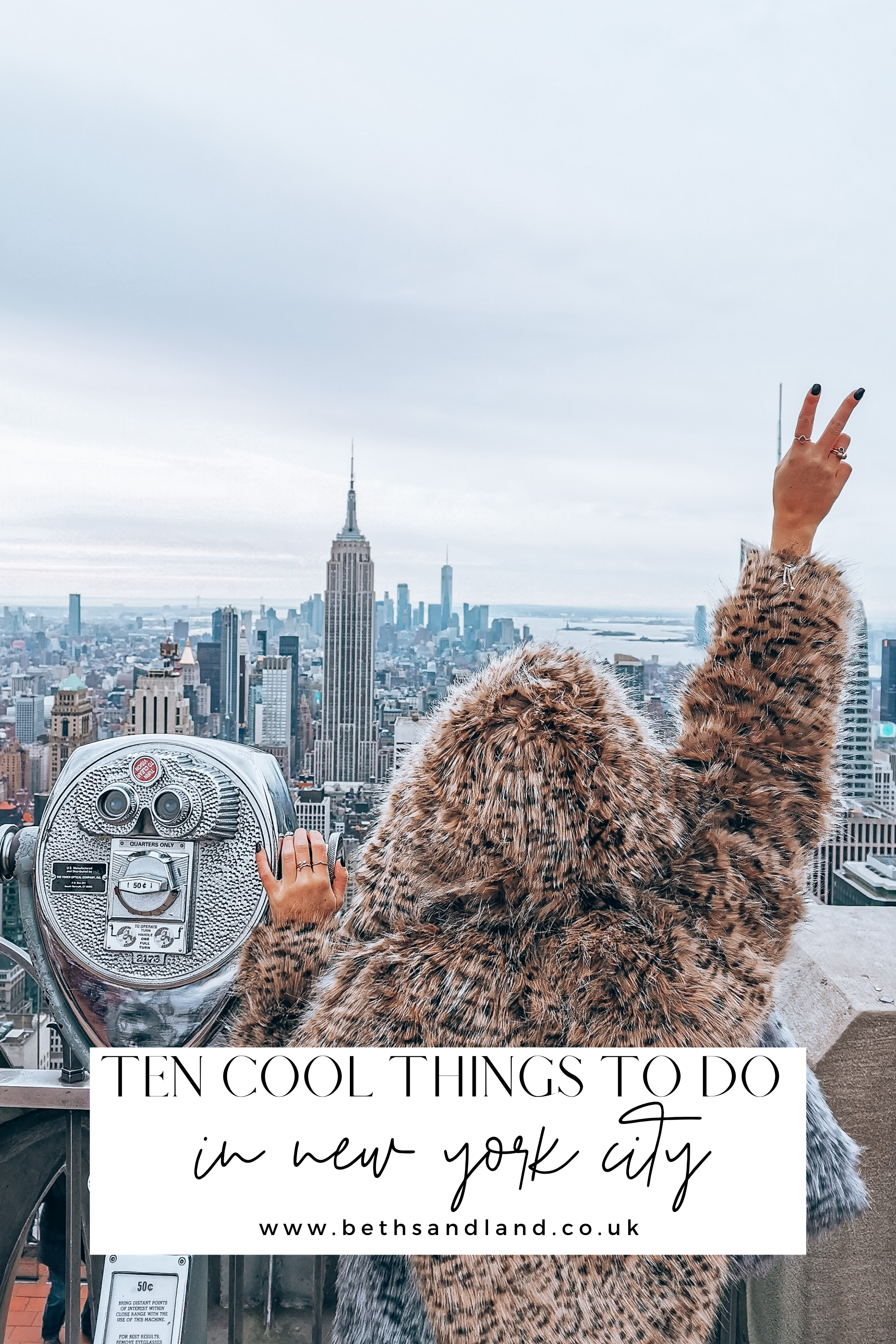 PS. Don't forget travel insurance! If you're not sure why it's important, read this.